Title: Tempted (Playing the Edge Series)
Author: Susan Arden Genre: Erotica 18+ Extreme Sexual Content
Publish Date: September 16, 2014
~Synopsis ~
One day is all it takes to be tempted into playing the edge.
After escaping an abusive past, Eliza refuses to accept the mind-numbing existence she's cast into. Living in the shadow of her overprotective sister, leaves Eliza suffocated and stifled, until Graham Gordon takes up residence in her yoga class and in her head. Just like that, her vanilla world is turned upside down. Graham is everything she should avoid and everything she's ever desired. Graham Gordon is wealthy, privileged, and harbors a secret vice no one would ever suspect. In Eliza, he has found the perfect acquisition: an innocent teacher he can't seem to forget. During a private yoga session, Graham makes Eliza an offer she can't refuse and teaches her what it means to submit to his every desire. Within Graham's powerful presence, the veils under which Eliza hides are stripped away, unlocking her inner hunger to be dominated. But will Graham's possessive nature save her from the demons of her past, or be another experience she must survive?
~TEMPTED TEASER~
Hello, gorgeous creeper.
Silently, he extended his hand filled with my things. I had no choice but to sweep my fingers over his palm never expecting a zapping current to pass between us. I shivered, jerking my arm backward as the electrical jolt raced up my arm before discharging. I gasped when it landed deep in my belly. Distracted by my reaction, I made the mistake of meeting his gaze. His dark eyes in the daylight were bottomless, and his attention had my pulse in a race, but where the heck was the finish line? "Thank you," I mumbled. "I can manage." I wished he'd stopped helping me since I was coming undone. "No question. Still I want to make certain you're all right." Once more our gazes locked, and the effect was like entering into a timeless chasm. So, there I was kneeling on the ground, unprepared for the cauterizing heat of staring into his eyes at close range. It was all too much. I ground my teeth with the need to get away before I did something incredibly stupid. "Look, that's nice. But I'm fine and really don't need any help out here." "Not a second ago." He snorted a laugh. "Luckily, this machine basically drives itself and brakes fast and hard. Really, you could've been hurt if it'd been another car and driver." The way he said
fast and hard
had me sputtering as the words echoed within my mind, sending a swarm of butterflies housed in my stomach into flight. Yep, I remembered, he did that to me. He offered the last few items he'd picked up and I reached for them, brushing my fingers over his. "Well, bully for me." The words slipped out of my mouth. No way to pull them back, so I finished with, "This isn't NASCAR, you know." Without a break, his brow lifted. Game on. "Nor the Boston Marathon, sweetheart." "Humble much?" I asked, going with the flow. "I'm not here to debate. Eliza, isn't it? I dropped by to see when you might have a moment to talk." "Talk?" I mocked. I couldn't help myself. Talking was not what I imagined he wanted to do with me. It sure as heck wasn't what I wanted to do with him. "Yes. Talk." He inhaled in that way people did when they chose their words carefully. I'd seen it, but rarely practiced the art. "Last night in the class and now, I'm convinced we have a connection between us. No sense in running from it." His eyes bored into mine and I froze. It got worse when he tunneled his fingers through hair, and a blast of heat rippled through me. The way his hair stood up looked like he'd fucked someone senseless. Who was I fooling? I seriously wanted to book passage on that cruise. "Oh," I replied deep into a brain drain. "Unless, you tell me to go," he spoke to me in a measured tone. Shit.
Wake up, Eliza. Yoga. Studio. Student. Ring a bell?
~Tempted Video Trailer~
~Review by Jodie Rae~
This is my first book by Susan Arden and I am completely shocked! I couldn't put the book down! The characters were all so real. This is the type of book you were craving to read after Fifty Shades of Grey. The sex scenes in this book are scorching hot. Susan Arden knows how to write some steamy scenes!

Tempted
is the first book in the Playing The Ede trilogy and this looks to be an amazing series. Eliza is a yoga instructor at her sister's studio. When Eliza is not at the studio, she spends her time partying with no worries in the world. She just gets by each day to start it all over again. From this book you know as a reader she has had an abusive past and tries to block that out of her memory. One day she teaches yoga and locks eyes on Graham. Graham, is extremely stressed and taking yoga to relieve some of the stress. He is flifhy rich and owns his own company. When he locks with Eliza, he knows that he will give it his all to have her in his life.

Graham is a looking for a submissive to satisfy his kinky side and Eliza is just the one to fill that role. Graham hires Eliza to give him a private yoga class. When Eliza shows up, Graham and her cannot hide the attraction they have for each. Graham asks Eliza to be with him for a six months; be his personal assistant and and freak between the sheets. ;)

I'm very much looking forward to the other two books in this series to find out what happens with Graham and Eliza.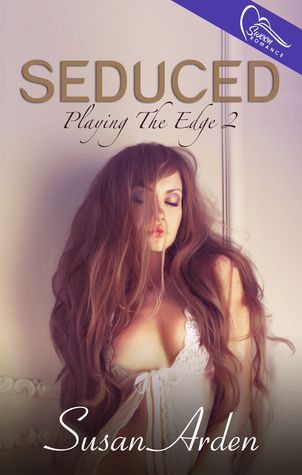 Title: Seduced (Playing the Edge Series)
Author: Susan Arden
Genre: Erotica 18+ Extreme Sexual Content
Publish Date: September 16, 2014
Publisher: Swoon Romance
~Synopsis ~
The seduction is only the beginning. After giving Graham's proposal some thought, Eliza signs the erotic service agreement on the dotted line and crosses the threshold into Graham's bedroom in New York. After all, it's only six months. But Eliza's a world away from the beaches of Miami, ready to learn the secrets behind the man who holds her a willing captive. The man whose insatiable appetite might just break her. It's a point of no return if she agrees to play the edge.
~SEDUCED TEASER~
"Miss Hillwood, care to explain what the hell you're doing here?" The sound of Graham's seductively deep voice swept over me from behind and exploded in my head. I turned so fast I got whiplash. Our gazes connected, and the grimace he wore melted me, sending a jolt of something like apprehension or anticipation deep in my belly. I gaped up at him with my damp hair partially obstructing my view as he stood over me, appearing powerful and all too much a predator. And like prey, I sat there hypnotized by his closeness and captivated by the thought of what he'd do next. He brushed back some of my bangs. "From your flushed cheeks, I can see you've been here awhile." He glanced around the club as he lightly traced my bottom lip. The feel of fingers on my skin made me hungry for more. "I take it your friends are still out on the dance floor." "How do you know who I came with?" I asked, unwilling to get up and throw myself at him. Dressed in dark jeans and a black button-down shirt that stretched over his muscular chest and broad shoulders, he was sin, sex, and a click away from losing it. And I drank in the sight of him. Graham's clothing left nothing to the imagination for someone who'd been pinned under him. That person being me. "I thought I made myself clear when I expressly told you to go home and call me." He ran his knuckles along my jaw. "Didn't I?" The slight kicked-up curl to his smile gave me the distinct impression the soreness between my legs would be nothing compared to what he had in store. I wet my lips, his focus trained on my tongue, and I swallowed. Seeing the heat in his eyes build, I struggled to breathe. The pounding music on the dance floor echoed in my heartbeat, thudding way too loud in my chest. I knew he wasn't here to share a drink. He fully intended on delivering something we both remembered. His eyes glinted brighter, and he gave me a
look
that promised he'd consume me without mercy. "I forgot. Things got a little weird," I offered, plastering innocence over my face. "Eliza," he growled my name in a low rasp filled with hunger and frustration. I twisted my fingers in my lap. "Look, this is my last night out with friends. Besides, I don't see you sitting at home knitting a scarf. Why should I when that's what I'll be doing for the next six months, if you have your over-the-top way?" That had to be the alcohol talking—this played into what we both wanted, and I never made things this easy. For anyone. "Do you remember the last time we had to take a short walk?" His arched brow sent a dart of excitement racing up my spine. "Oh, me and a few places in my body remember more than well." He leaned in and whispered up against my cheek, "That tone, Ms. Hillwood."
~Seduced Video Trailer~
~Seduced Playlist~
~Review by Jodie Rae~
This was an incredible book. Absolutely amazing. I went straight onto this after devouring Tempted, the first book in this series and it did not disappoint.

This book starts shortly after the slight cliffhanger from the first book. Eliza is in debating to sign up for Graham's proposal to be in a relationship with him for six months.

This book focuses more upon the evolution of Graham getting Eliza into the world of BDSM and control. And boy, does it evolve.


Graham is your typical normal alpha male hero. He is possessive, a control freak, and a protector (I love that about him). He is tamed compared to some alphas and I think that it really works great for Eliza.

In the bedroom,

Graham

is super dominate, controlling, and it is smoking hot! Graham and Eliza's chemistry is explosive. They have an great connection.
Since Graham thrives off of control; he has to work with Eliza to start releasing her control to him. The problem with Eliza is she does not trust him completely and it is hard for them to get over that point in the relationship. Eliza is scared because she knows there is an end date to their relationship.



My final thoughts for Tempted and Seduced are simple: they are amazing stories. I definitely recommend that you bump these two books up a few spots and read them now! I can guarantee that you will not be disappointed! The story is well written, sexy, page-turner, and angst. I definitely want more of Graham!! Can't wait for book three to see the continuation of Eliza and Graham's story!
~About the Author~
I
'm not into chocolate...I prefer brightly colored candy. Wild flowers over roses. Definitely, I prefer the company of children and animals over politicians and bureaucrats. Was a teacher, now turned into a romance writer, and just got into cover and interior book design which is a whole other fascinating world.
~Social & Buy Links~
~Giveaway~