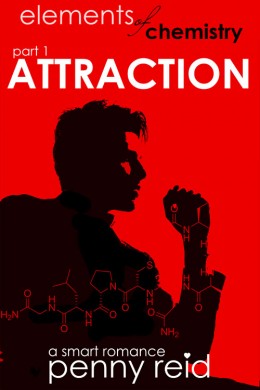 Publication Date: April 9, 2015 A
~*SYNOPSIS*~
Elements of Chemistry: ATTRACTION is the first part in a three part series; it is 45k words; and it ends with a cliffhanger. Part 1 (ATTRACTION) will be released April 9, 2015 Part 2 (HEAT) will be released April 30, 2015. Part 3 (CAPTURE) will be released May 16, 2015.
One week. Private beach. Invisible girl. Jerk-faced bully. What's the worst that could happen? Kaitlyn Parker has no problem being the invisible girl, which is why she finds herself hiding in various cabinets and closets all over her college campus. Despite her best efforts, she can't escape the notice of Martin Sandeke—bad boy, jerkface bully, and the universe's hottest, wealthiest, and most unobtainable bachelor—who also happens to be Kaitlyn's chemistry lab partner. Kaitlyn might be the only girl who isn't interested in exploiting his stunning rower's build, chiseled features, and family's billionaire fortune. Kaitlyn wants Martin for his brain, specifically to tabulate findings of trace elements in surface water. When Kaitlyn saves Martin from a nefarious plot, Martin uses the opportunity to push Kaitlyn out of her comfort zone: spring break, one week, house parties, bathing suits, and suntan lotion. Can she overcome her aversion to being noticed? Will he be able grow beyond his self-centered nature? Or, despite their obvious chemistry, will Martin be the one to drive Kaitlyn into the science cabinet of obscurity for good?
~*REVIEW BY ELYSSA*~
As any of you who follow my reviews at all (or at least read the reviews on Penny Reid books--heads up, they're done by me) know, I love Penny's books. If you could marry a book, I would marry all of them. If polygamous relationships were legal, I'd be married to every single hero she's written. So naturally, when Attraction, part one of her three-part novel about Martin and Kaitlin, I was super excited. But I was also skeptical. New Adult novels aren't usually my favorite because I like to escape--and as a New Adult... that wouldn't be very much escape, now would it?
Regardless, super excited. Kaitlin Parker, daughter of a US Senator, is extremely scientifically-minded and lives a life of logic--she makes her decisions based on pros and cons and the good of the world around her, not for herself. Martin Sandeke, son of the owner of a telecommunications giant, does not. Martin, in Kaitlin's words, is a bit of a "jerk-faced bully" and has a habit of sleeping around and generally getting whatever he wants. Except Kaitlin, who, as it turns out, he's had a crush on for almost two years.
In a moment of ingenuity, Martin manages to convince Kaitlin to spend Spring Break with him as he and his rowing team (which he captains) train at his family's mansion on the beach. What transpires is an adventure in first relationships and first love--one that I wasn't sure I liked. I mean, aside from the fantastic chemistry that Martin and Kaitlin have. They have a funny dynamic--they're not incredibly alike, and yet somehow they are. They play off of one another and push one another to be different and examine themselves and who they are as people, which is kind of fun to watch. This is only part one of the book, so (sadly), things didn't get too steamy. Oh, things got started, and what got started was pretty hot (like, why, oh, why, didn't I meet a Martin in college kind of hot). The anticipation for how awesomely sexy the next part of the book is going to be, just based on the tease we get from this book is MORE than enough to make me super excited about the next installment. This novel was kind of dramatic, in the way that only stories about learning about love can be. There are ups and downs, uncertainty, and a lot of self-doubt. It made me uncomfortable. And for a while, I didn't like it.
But do you know why I didn't like it, Fallers? Because I identified with it, and it was kind of scary. This book made me examine myself as a person, and for a couple days, I didn't like it. At all. But then I went back and thought on it...and I realized how amazing that kind of feat really is. Penny has, once again, wrought a story that hits on a deep, emotional level that makes you look at yourself in a different light--and at others.
As always Fallers, pick up a copy of Attraction, ASAP. You won't regret it, and you'll really have a treat on your hands: a wonderful, human story that happens to be pretty hysterical and steamy as all get out.
SEX! It all started with sex, between my parents. Personally I don't like thinking about it, but whatever works for you is a-ok with me. No judgment. The sex happened in California and much of my life also occurred in that state until I moved from the land of nuts (almonds), wine, silicon… boobs, and heavy traffic to the southeast US. Like most writers I like to write, but let's get back to sex. Eventually I married and gave birth to 2 small people-children (boy-6, girl-4 as of this writing).
By day I'm a biomedical researcher with focus on rare diseases. By night I'm a knitter, sewer, lino block carver, fabric printer, soap maker, and general crafter. By the wee hours of the morning or when I'm intoxicated I love to listen to the voices in my head and let them tell me stories. I hope you enjoy their stories.