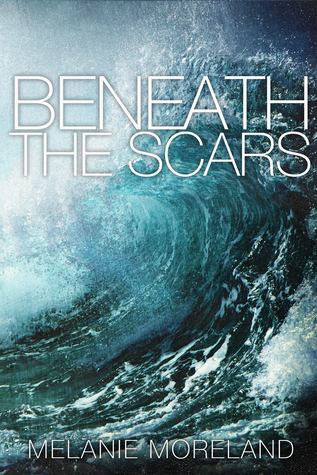 The sound of the ocean, the crash of the waves as they kick up against the sand and rocks—these are the only sounds Megan Greene wants to hear. She wants to leave the rest of the world behind, and find some peace.

The offer of a private house on the beach, set in a small town in Maine, is perfect. Time to think—to be by herself. It's all she wants. It's the escape she needs.

Until she stumbles across the painting that seems to echo her own chaotic mindset.

Until she meets the unfriendly artist behind the stormy painting and discovers his secrets.

All Zachary Adams wants is to be left alone. His canvases, and the unending scope of the ocean and sand, are his life. They direct him—fill his hours. Bring him focus.

Until she enters his life.

She dredges up memories of the past—the haunting images he has hidden for years; the fears he has never shared.

A story he keeps buried below the surface.

Can she make him see what he is missing? Can he trust her enough to believe?

Together they embark on a journey where their pasts collide and threaten to tear them apart.

Will their fragile bond hold or wash away with the ebbing tide?
Which authors inspire you?
So many. I love an author who can take me to another place and let me lose myself for a while in their world. I have books I read over and again because I love them so hard. I adore it when a line can repeat in my head, making me seek out that book and reread it. Lawrence Sanders, Louisa May Alcott, The Bronte sisters, Lucy Maude Montgomery— so many. I like a lot of the older classics.
What advice would you give to your younger self?
I would tell myself not to sweat the small things so much— life is too short. And I would say to not be so hard on myself all the time—there are many other people who do that enough!
What is your all-time favorite book or series?
N
ow don't laugh. Anne of Green Gables. I adore that series and have read it countless times. It takes me to a time and place where life was simpler and easy. And being from Canada, and the fact it is set in my favorite province – PEI makes it that much more perfect.
What are you currently reading and do you recommend it to your readers?
See below!
Here is your chance to pimp out your author friends and their books. Give us the author name and the book(s) you would suggest for your readers.
Carrie Elks – Coming Down—just read it and it wonderful. I am currently reading All Falls Down by Ayden Morgan— another favorite. Love it. I would recommend either of these authors to my readers. I finished the Rosie Project by Graeme Simsion not long ago –and so loved that book—the humor made me laugh. I have a bunch of books waiting to for me to get to—I have, ah, been a little busy lately.
What did you do before you became an author?
I was, and still am, the ticket coordinator for a local university. I handle all their ticketing needs for their sporting teams. I write in the early morning and late hours of the evening. Often in the middle of the night. I don't sleep very much at times.
Since becoming an author, what has surprised you the most about the industry?
I have found some great support and new friends with other authors. Their generosity has been a very pleasant surprise.
What inspired you to write Beneath The Scars?
So much emphasis is placed on how people look now. There are such unachievable images we hold ourselves up to. I was looking at a picture of some gorgeous Hollywood star and said to my husband—I wonder what it's like to be that beautiful? He sorta shrugged and said I can't imagine the worry about that fading and wondering what to do when it does…and it got me thinking. What if your
entire
life was built around your face— what if you thought that was your only worth in life and to everyone around you? And then…it was gone? Everything you knew, how you were judged, was just gone. By the next day, Zachary was born.
How long did it take you to write Beneath The Scars? Did you ever have writer's block, and if so, how did you combat that?
It took over a year. There was a point where nothing happened for almost three months. I would read and reread, tweak and fix, then erase. Nothing came to me. I was beginning to think the story had fizzled and I woke up one morning with a line in my head playing over and over—
"Which only fueled the rage even more." The more I heard the line, the more the scene developed.
I sat down and typed it out fast— even though the chapter was way ahead in the story and it suddenly started to fall into place again. I knew how to get to that point.
Zachary and Megan were both very artsy characters, and their passions for painting and writing were their outlets from life. What do you consider your outlet to be?
LOL. I write. I also cook and bake, I love to craft things and decorate—I like to do stuff with my hands. Except gardening. I HATE gardening, even though every year I swear I will do something great, it fails. Dirt and I just aren't friends. Weeds piss me off.
Who is your favorite character and/or who do you relate to most in Beneath The Scars and why?
Zachary is my favorite. So many layers. But I relate to Megan a great deal. She is just so…human and flawed. She does things without thinking—as we all do—like handing over her book never even considering the consequences or downloading pictures of Zachary and keeping them on her computer. She feels emotions deeply—never once questioning her feelings for Zachary. Yet for all her silly quirks, she is strong and her fierceness and love for Zachary—her capacity for forgiveness—is powerful and deep. Things are very black and while for Megan. No long drawn out angst or levels of forgiveness. For her it is all or nothing. I guess in many ways that is like me as well.
Are either of the main characters based off of real people? If so, who?
No, neither are.
Which actor and actress would you like to see playing Zachary and Megan?
Henry Cavill as Zachary. I like Alexis Bledel as Megan. They both fit the images in my head
, although Matt Bomer was certainly a close second for Zachary.
Was there a scene/chapter that was difficult for you to write? Which one and why?
The scene where Megan realizes Zachary isn't coming back was hard to write. The words "hope just died" were very powerful to me. We all have experienced some sort of loss where we are desperate for it not to have happened. Where we so hope what is in front of us isn't the new reality. And when we come to grips with the fact it is… yeah. Sometimes the emotion almost knocks you off your feet.
In reference to the steamy scenes: You wrote just enough to make the reader hot and bothered, but managed to not get too raunchy with the language. How do you find the happy medium? Was that a stylistic choice or based on the characters and the storyline?
In my first book I was more descriptive and heavy, I think. This one was softer, more about feelings and the intimacy for them. It was something he had never experienced before and I wanted to have the readers feel it as well. The entire process of a relationship was so foreign to Zachary—the feelings Megan stirred in him were ones he'd never known, the act itself so different. So I made the steamy ones more reflective of that.
Do you have any deleted scenes you wish would have made the final draft, and if so, will you share one with us?
I made a bunch of changes as I went along, but I have no deleted scenes. Surprisingly, everything in my outline ended up in the book. I even added a few things long after the book was done. The scene with the banana bread wasn't in the first or second draft.
Do you have any new projects lined up? If so, will you give us a sneak peek or maybe just a hint?
I am writing one right now – a different premise. Much slower paced – friends before lovers sort of thing. I also have the outline for the book after that in my head. It is still in baby stages—and it is far more angsty.
When I was about five years old, I fell in love with one of the greatest Disney movies of all time. I was obsessed to say the least. I remember making my family rent it on VHS every time we went to pick out movies at the rental store. My brother and sister had memorized the soundtrack from having it replayed over and over throughout the house. I even had a themed birthday party and received the movie, a sleeping bag, and a bath towel all designed around this special princess.
Beauty and the Beast is a story of a beautiful, young woman who is held captive by a beast who lives in a secluded castle, troubled by his appearance and feared by the townspeople. Belle's love opens the beast's heart to feel happiness again and unlocks the secrets he keeps buried inside.
I wondered what it would feel like to watch that
sweet story play out on the screen just like it was the first time. Lucky for me, that feeling came back so much stronger while reading Beneath The Scars by Melanie Moreland.
Five Leaves reviews, in my opinion, are given to stories that pull you in from the very first page, disrupt your life, and leave you in withdrawal when it's all said and done. It has been two days since I swiped the last page of Beneath The Scars, and I can still feel the emotions of the story weighing on me. As if I was Megan, I can still feel the cold ocean water at my feet, hear Dixie running circles in the sand with Elliot, and see Zachary walking down the steps from his house on the bluff, wearing his long coat and beanie. That is how real this story feels, which can only be translated by the delicate work of the talented, Melanie Moreland.
Megan Green's best friend offers her an escape to a beach house after she is scorned by her ex-boyfriend, who stole her manuscript. Megan plans to use her time away from the city to clear her head and find her words again. What she doesn't factor in to her plan is the very private and reclusive Zachary Adams.
Zachary has lived on the bluff for years and spends most of his days either taking a walk in the woods behind his home with his dog, Elliot, or pouring his soul into his breathtaking paintings from his studio. The secrets behind the scars that cover parts of his face and body have caused him so much grief; he has become the master of control and seclusion. He hides himself from the world and never lets anyone get too close, except for Megan.
Zachary uses ugly words and a hateful demeanor to turn Megan away, but she's too curious about the man behind the scars. He does everything in his power to try to deter her from breaking down his walls, but she is much too strong and her love is truly unconditional.
Once he lets her in, the love between the two flows abundantly. As a hopeless romantic, it was such a pleasure to read as these two characters quickly fell in love. The cute scenes between Zachary and Megan flow right into their tender lovemaking, which is so refreshing. Those steamy scenes are much appreciated, because they were written with heart and not just with the purpose to stir up some naughtiness. Although, there was some of that too ;-)
To Melanie Moreland... Your story has changed me. It gives me hope that one day someone special will see through my physical appearance and my flawed past and want to love me still. Because of your words and the beautiful message behind such a sweet romance, I will never be the same again, and I wouldn't have it any other way.
To the FALLowers... If you are like me, you read several romance books a month and hundreds a year. You walk the lives of so many characters, and they tend to blend together. Maybe a select few stand out, and of those few, maybe one or two make the favorites list. That's honestly why we pour ourselves over so many stories, right? So we can find our next favorite?
Well, guess what? Here it is.
~*SOCIAL & BUY LINKS*~