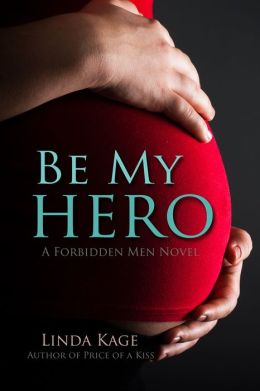 Be My Hero
Forbidden Men #3
By: Linda Kage
~*SYNOPSIS*~
Junior in college. Star athlete. Constant attention from the opposite sex.

On this campus, I'm worshiped. While seven hundred miles away, back in my hometown, I'm still trailer park trash, child of the town tramp, and older sibling to three kids who are counting on me to keep my shit together so I can take them away from the same crappy life I grew up in.

These two opposing sides of myself never mix until one person gets a glimpse of the true me. I never expected to connect with anyone like this or want more beyond one night. This may be the real deal.

Problem is, Dr. Kavanagh's my literature professor.

If I start anything with a teacher and we're caught together, I might as well kiss my entire future goodbye, as well as my family's, and especially Dr. Kavanagh's. Except sometimes love is worth risking everything. Or at least, it damn well better be because I can only resist so much.
I rated Be My Hero by Linda Kage FIVE LEAVES!!!
Reading Be My Hero was an extra-ordinary, emotional roller-coaster ride. While reading this book you will feel love, anger, joy, pain, and heartache. Linda Kage, you complete me... you had me at Pick. Just when I thought nothing could ever compare To Professor, With Love, you gave us Pick and Eva.
The prolong starts with a fourteen year old Pick. He has been bouncing around foster homes. Even at fourteen you can see that he is a protector. One of his foster friends, Tristy, who experienced horrible times living at foster house, she decides to visit a fortune teller to see if she will have a better life in the future. Tristy is not happy with what the fortune teller said and Pick wanted to hurt the psychic. When comforting the fortune teller, the unexpected happened. Pick saw flashes of his future. The future shows that he will have his happily ever after, be married to his soulmate- Tinker Bell, and have children.
Eva hasn't had the most perfect life. She has had bad luck with men in her life. She believes that all men are monsters, until the day she meets Pick. When Tinker Bell walks into his life he knows he will stop at nothing to be with her. Do you want to know why he is the 'Forbidden Man' in this story? YOU will need to read that for yourself!
There is plenty of heartache in the story along the way but never from Pick and Eva. They stick with each other through everything and grow together. They never let go even when life keeps throwing rocks at them. They want to protect each other as best as they can. Let me gush over Pick, awww! He is the perfect guy; caring, funny, kind, understand, loveable, tatted up, and most importantly... very very sexy!!
I'm really looking forward to Quinn's book next and the plot sounds amazing!!
Linda grew up on a dairy farm in the Midwest as the youngest of eight children. Now she lives in Kansas with her husband, toddler daughter, and their nine cuckoo clocks. She works a day job in the acquisitions department of a university library and feels her life has been blessed with lots of people to learn from and love. Writing's always been a major part her world, and she's thrilled to finally share some of her stories with other romance lovers.