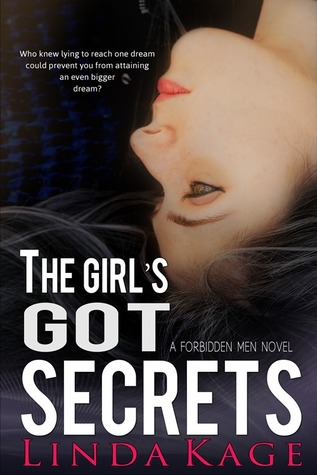 The Girl

's Got Secrets
Forbidden Men #

7
~*SYNOPSIS*~
Here's the same old "girl posing as a boy" story but with a rock-n-roll twist.

Remy Curran dreams of one day being in a band, except the group she wants to join refuses to hire a girl drummer. So, she auditions as a guy...and makes the cut.

Becoming "Sticks," a member of Non-Castrato, isn't quite what she dreamed it would be, though. She spends most of her time keeping up the subterfuge and learning how to walk, talk, act, and drink like a man.

But what's even harder to deal with is acting oblivious when the band's heartthrob lead singer, Asher Hart, treats her like one of the guys and not a woman. She never imagined he'd be so much more than a pretty face with a nice voice. But he's better than perfect. He's perfect for her.

When love and lies combine, Remy must keep up the act or lose everything. But who knew lying to reach one dream could prevent you from attaining an even bigger dream?
The Girl's Got Secrets is book number seven in the Forbidden Men Series by Linda Kage.
This FIVE LEAVES book is a little bit like the movie She's The Man with a slight undertone of William Shakespeare's Twelfth Night. Just like all of Linda Kage's books, The Girls Got Secrets is full of humor, twists and turns, love, and angst; making a great story!! You will laugh so hard and cry happy tears served with a side of tears that are full of frustrations for the characters. At the end of this fantastic book, you are left with one of the best books by Linda Kage and an unforgettable love story!
This book tells a story of a girl, Remy Curran, who loves to play the drums. When she finds out that her favorite local band Non-Castrato is in need of a drummer she tries out. To her surprised she is is asked to leave because she is a girl. Remy is upset and venting to her roommate, Jodi they come up with the idea where she deices to dress up as a guy.
The next day, Remy disguises herself as "Sticks" where she meets the lead singer of the band, Asher.

Remy decides that she will rip off the mask and shock the guys but on her way she gets caught up in a tangled web of lies, deception, and love.
In the previous books we have met Asher Hart who we find out is Pick Ryan's brother.
He is the club owner of Forbidden where he is also a Bartender. I enjoyed reading about Asher in the other books and of course, I couldn't wait for his own book. Asher had a rough past and wants what his other friends have: a family. He is sick of one night stands and girls only wanting to be with him since he is a lead singer of a band. There have been zero girls that have captured his attention since the night of Karaoke a girl that left him wanting her.
In the end, you are sitting on the edge of your seats wanting to know what happens when the lies are caught up with Remy and will you find out what had happened to Asher as a child that will you bring you to tears.
I HIGHLY recommend The Girls Got Secrets with Asher and Remy. The whole Forbidden Men Series is a must read. This has to be on the top 10 of my favorite books in 2015! Each book of Linda Kage just keeps getting better and it makes me wish I could have the next one out now! (I know who is the next book is about and I seriously cannot wait to read that book, I know without a doubt it will be favorite!)
Linda grew up on a dairy farm in the Midwest as the youngest of eight children. Now she lives in Kansas with her husband, toddler daughter, and their nine cuckoo clocks. She works a day job in the acquisitions department of a university library and feels her life has been blessed with lots of people to learn from and love. Writing's always been a major part her world, and she's thrilled to finally share some of her stories with other romance lovers.