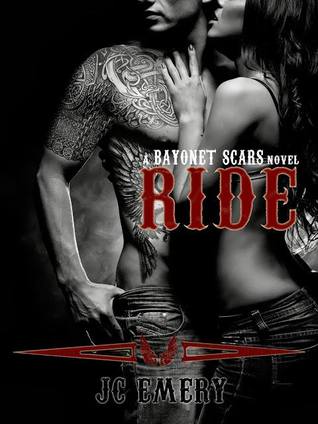 Death comes in Armani. Salvation comes in leather.

Principessa to the Mancuso crime family, Alexandra knows a thing or two about living outside the bounds of the law. Suffocated by the future her father has laid out for her, she makes a choice she can't take back, changing the entire trajectory of her life.

Thrust into the dark and dangerous world of the Forsaken Motorcycle Club for her own protection, Alex finds herself faced with the last thing she needs right now: the man of her dreams. He's sex in leather, the devil incarnate, and one hell of a kisser. But he's also off-limits. Ryan Stone can be her friend, but he's forbidden to be her lover.

Third-generation Forsaken, Ryan knows nothing other than life on two wheels, and he wouldn't have it any other way. He enjoys the many privileges that come with the patch, and the only laws he recognizes are the ones set-forth by his club. That is, until who he wants more than anything isn't allowed on the back of his bike —or in his bed. Balancing his desire for her body, and need to keep her safe, Ryan tries to keep Alex at a distance. Finally having made a choice for herself, she's done hearing the word "no" and will push boundaries even Ryan himself doesn't dare cross.

Love is never more tempting than when it's forbidden.
Loneliness suffocates the heart. Acceptance breaks down walls.

As a Lost Girl to the Forsaken Motorcycle Club, Nicole Whelan knows how to party. She's not cut-out for relationships and her life is way too complicated for anything more than casual encounters. But one night when she falls into Duke's bed at the clubhouse, he sees something in her that he can't let go of—no matter how many times she tries to run.

Having been left to raise her teenage brother, Jeremy, she's already got her hands full and isn't looking for anymore complications. But Duke's just watched his best friend fall for the only girl he couldn't have, and then almost lose her so shortly after, shaking him to his core. Faced with his own loneliness, he's more determined than ever to break down Nic's walls and show her that he can be good for her; but he's got a bad track record and she's got a bad temper. Changing his ways isn't easy when he's not sure what he's even changing for.

The violence and turmoil are at an all-time high, and Forsaken is in a vulnerable place when a twist of fate breathes new life into the club. It's a much-needed beacon of hope for the embattled biker family, even if everyone's not exactly on board. With Duke and Nic's relationship already on shaky ground, and something even more important at stake, the Forsaken Motorcycle Club will fight like hell to keep their family together and whole.

Love is never more precious than when it's new.
Everyone belongs somewhere. Even the misfits.

With the looming threat from the Mancuso Crime Family, the Forsaken Motorcycle Club is preparing for a war that could destroy them. Grady, the club's Sergeant-at-Arms, knows that love makes you weak, and he has zero interest in adding to his liabilities– especially now. He's already got his teenage daughter who keeps him on his toes and a beef within the club that could fracture his relationship with a fellow brother for good.

For Holly Mercer, her life is finally getting on track and the last thing she wants is trouble from her hometown's resident outlaws. Keeping her nose clean is easier said than done, when suddenly she finds herself embroiled in club business. Holly might like the idea of being with a real-life bad boy, but even being in the same room with tough-as-nails Grady flusters her.

When Holly inadvertently finds herself on Mancuso's radar, she has two choices: trust that Grady will protect her, or continue to refuse the club's help. Both roads are dangerous, but only one has the chance to damage her beyond repair.

Love is never more dangerous than when it can destroy you.
First of all, I'm an absolute sucker for a Romeo/Juliet dichotomy, so this book was basically a slam dunk for me! I'm giving Ride four leaves! Alex is the prinicipessa of the Italian mob; Ryan is a young rider for a California motorcycle club that's been charged with taking care of her after she becomes an unintentional rat. So what ensues? Heartbreak and true love, that's what, Fallers. They have to go through a lot of drama and a lot of heartbreak (and I mean a LOT), but in the end, the simmering chemistry between Alex and Ryan is too much--even if it means risking the censure of Ryan's club. What happens in the end, Fallers, is up to you to find out, but the hot, gut-wrenching ride (look--I made a pun!) is totally worth the read.
Nic's been a Lost Girl for the club ever since she became an adult--and ever since then, Duke's been chasing her, trying to get her out of his system--he's always been drawn to her, and his (sometimes questionable) devotion to her is what scored book two of this series three and a half leaves! Much like Alex and Ryan, Duke and Nic don't really know what they're doing--they're drawn to each other, but they don't know why. And frankly, neither of them is happy about it. It would be so much better for everyone if they were attracted to other people. But when was that ever the fun way to begin a love story, Fallers? Nic and Duke are my favorite of this trio, and I think you'll root for them as much as I did!
They usually save the best for last, don't they Fallers? Grady and Holly's story is no different, and I'm rating it four leaves! Let me tell you Fallers, this story takes the cake. It's got revenge, true love, insiders vs. outsiders--let's just say it's got everything. It packs a wallop--for a little while (during the twist, which you know I won't tell you about because spoilers), I wasn't sure our anti-hero and heroine were both going to make it out alive. The fear was very real in this one, which just made the romance that much more palpable and sweet--this story seems short on sweet. But when it's there, it packs a punch and delivers.